by Keith Gluck
Guest Blogger
October 11, 2013, marks 10 years since the closure of the Magic Kingdom's ExtraTERRORestrial Alien Encounter. While we all know the story told during the ride, which featured a diverse cast of big-screen veterans, I wanted to delve into the story behind the infamous attraction. So I sat down recently with Jerry Rees -- creative genius, storyteller in all media, and the man who was involved in almost every aspect of the project's creation.
In August 1993, work began on a $100 million makeover of the Magic Kingdom's Tomorrowland. The land's appearance had become somewhat dated, thanks in part to "one designer back in the '70s predicting the future of architecture," according to Imagineer Eric Jacobson. In charge of design for the entire park, Jacobson set out to give the land a fresh look (the new theme was "yesterday's future"), as well as update or replace many attractions. Mission to Mars was on the chopping block, and Disney decided to replace it with an attraction called ExtraTERRORestrial Alien Encounter.

Alien Encounter would be like no attraction Disney had ever done. There was a time when the Haunted Mansion in Disneyland was thought of as legitimately scary, but it was toned down and infused with more gags. The Phantom Manor in Disneyland Paris opened in 1992, and scored slightly higher on the scare scale than its American cousins. However, none of Disney's mansions could ever produce the same reactions as the centerpiece of the Magic Kingdom's 1995 "New Tomorrowland" did.
The official line on Alien Encounter tagged it as, "A sensory thriller from Disney and George Lucas." It featured performances from Tyra Banks, Jeffrey Jones, Kathy Najimy, Kevin Pollak and, initially, Phil Hartman.
The show was designed to utilize a variety of mediums in which to tell guests its story, including audio-animatronics, video screens, and advanced audio effects. Enter Jerry Rees, the man who orchestrated the multi-faceted show "Cranium Command" for Disney just a few years earlier.
"Since Imagineering had gotten used to me as a 'film plus' director, meaning that I was comfortable merging film aspects with in-theater animatronics, effects, lighting, etc.," Jerry remarked, "they cast me with the 'everything plus the kitchen sink' Alien Encounter attraction."
At first, Jerry was only asked to direct the attraction's main media aspects, such as the pre-show promo for XS-Tech, the voice performance of the XS-Tech spokesbot S.I.R. (Simulated Intelligence Robotics), and the main theater "live" broadcast footage.
"I was not initially asked to direct all of the non-media in-theater storytelling aspects," Jerry said. "So after finishing the assigned aspects, I wished the project well and felt rather sad to see it go off for installation in the park without me."
That would change, however, after Michael Eisner reviewed the installed attraction. Eisner, along with a few others (including Marty Sklar), felt that the overall story wasn't being communicated dynamically enough. Jerry was called back in.
"Michael gave the 'bring Jerry in' instruction, and for the first time I was invited to direct the full experience soup-to-nuts," Jerry recalled. "I was delighted, since I'd been drooling to be involved with all aspects all the way to the finish line!"
Rick Rothschild was assigned to be Jerry's producer. The two met up in Florida and went through the entire attraction together, so they could assess what it needed and where. According to Jerry, they were "bubbling with ideas" upon exiting the ride. They put their ideas to paper almost immediately, and ultimately those notes became the foundation for all of the improvements they would make over the following six months.
"During that time Rick and I lived and breathed, ate and slept Alien Encounter!" Jerry declared. "It was all-consuming and very exciting."
One noticeable change completely altered the mood of the attraction's pre-show. S.I.R., voiced by Phil Hartman, would no longer be a friendly spokesbot who sang to himself while the audience filed into the pre-show area. English actor Tim Curry was brought on as the new voice of S.I.R., and he managed to add an underscore of menace to the narration.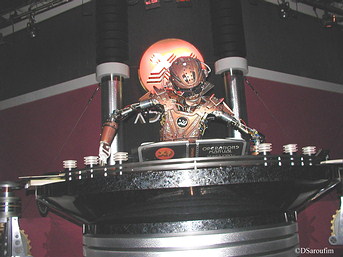 "I loved working with Phil on the first pass of the S.I.R. voice," Jerry remarked. "But ultimately, after listening back to the tracks, I felt that a more edgy 'tech evangelist' would be more effective. Tim nailed it!"
Jerry came up with some clever motivation for Tim, asking him to picture himself as a southern evangelical preacher who was delivering the message of X-S to his congregation. Jerry also worked with S.I.R.'s audio-animatronic animator, helping to ensure that the appropriately grandiose body language would be implemented.
Like Cranium Command, Jerry had to juggle several different elements that would all ultimately have to come together in order to tell one cohesive story. Never an easy task, I asked him which aspect of this production he found the most challenging. He responded, "The most challenging aspect -- and also the most fun aspect -- was coordinating all the elements so that it was completely believable that a giant alien creature had escaped and was on the loose in the broken theater. This involved film, normal and binaural audio in bizarre speaker arrays, animatronics, live actors, hidden actuators, vapor, wind fans, and much, much, much more. Each audience member was even splattered by 'bug bits' (water) at the end when the creature was exploded. The myriad of cooperative storytelling elements was staggering. And super fun!" Jerry's unique ability to visualize multiple yet separate show components made him the perfect choice for an attraction of this nature.
Extraterrorestrial Alien Encounter enjoyed an 8-year run terrorizing guests in the Magic Kingdom. The level of terror, however, might also have been the reason for its eventual demise.
"So far as I know, there was never an official reason given for its closure," Jerry remarked. "It was very popular. My best guess -- and the guess from other insiders I've chatted with -- is that it was closed because it was located in the Magic Kingdom, where parents have an expectation that they can let their kids run free and all rides will be appropriate. There is no such expectation at Disney's Hollywood Studios, where Tower of Terror scares the heck out of people all day long. My firm belief is this -- if the ExtraTERRORestrial Alien Encounter had been built at Disney's Hollywood Studios rather than the Magic Kingdom, it would still be playing today."

Keith Gluck has been a Disney fan his entire life. While Disneyland is his 'home park,' he has been to and adores Walt Disney World and Disneyland Paris. He runs thedisneyproject.com, and also volunteers at The Walt Disney Family Museum in San Francisco. If you were to ask him his favorite thing about Disney, his answer would always be, "Walt."
The previous post in this blog was Jim's Attic: Where in the World is Mr. Limpet?.
The next post in this blog is Epcot Trade Celebration 2013.