Mickey's Halloween Party 2010
This year the Disneyland Resort's Halloween party has moved from Disney California Adventure over to Disneyland Park. And it has a new name: Mickey's Halloween Party. While the name location and different, most aspects of the party remain the same as what we've experienced in previous years, with some exceptions that I will talk about later. The party is being held on 10 nights in October - every Tuesday and Friday, plus Sunday, October 31. There's more detailed information on the ticket prices, dates, times and events on the Mickey's Halloween Party page.
Lee and I went to the very first party of the year, which was on Friday, October 1. One thing that is new this year: party guests may use their party ticket to enter Disneyland up to three hours in advance of the start of the party. (At DCA the park was closed and cleared of day guests before party guests were allowed in.) There is a separate set of turnstiles that party guests must use - these were all the way over on the right side (furthest from the Mickey & Friends tram stop, of course!). Once inside we obtained our wrist bands - and these were checked multiple times during the evening, especially during the first hour or two. This year's treat bags, featuring an ad for Toy Story 3 on one side and Beauty and the Beast on the other, were also available just inside the turnstiles.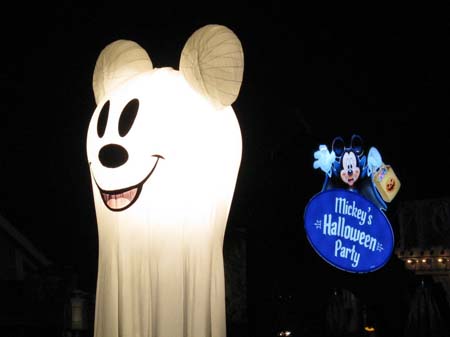 Halloween party maps were available at the turnstiles as we came in - I assume they were available at the usual map stations elsewhere in the park, but I didn't specifically notice them. These gave the locations of the treat stations, character greeting areas, and dance parties, as well as giving the times of the "parade" and fireworks show. They also listed all of the attractions and restaurants that were open. (Toontown and Tom Sawyer Island were closed, and part of Fantasyland was closed until after the fireworks.)
One of the big (perhaps the biggest) draw of the Halloween Party is that it's the only way to see the Halloween Screams fireworks show this year. The show is only showing on party nights. I know that disappointed a lot of people - it's really a great show, and for those of us who are Annual Passholders, it's kind of tough to have to pay an additional $44-$59 for a party ticket to see something that was "free" last year. But I have to say that it was a LOT easier to see it this year since there were a lot fewer guests in the park for the party than there are on a typical October night, so we weren't crammed into Main Street like we were last year.
We arrived just before 6:00. The park was open to day guests until 7:00, so we were surprised at how many of the restaurants were already closed (other than the ones that would be open during the party) - we wanted to eat at Cafe Orleans, but they had stopped seating before 6:00. :-(
They were still setting up for the party at that time - putting up decorations and treat stations and that sort of thing. By the time we finished dinner at the Plaza Inn it was about 7:00, which is when the party started. It was interesting listening to the background music change over to Halloween-themed music.
We both thought that there were more people in the park than there ever were for the parties at DCA. Which makes sense, since Disneyland is a lot bigger and can handle more people. Attraction lines weren't too bad once the day guests had cleared out, and got shorter as the night went on. But the treat lines were VERY long in most places - generally a lot longer than we were willing to deal with. Several locations had a "treat trail", where there were 5-6 treat stations within 20' or so of each other. We found the ones along Big Thunder Trail and back in Critter Country had fairly short lines but the ones around the Matterhorn had long lines every time we went by them. One tip: the treat trails are two way, so if the line is long on one end, try going to the other end. There are two cast members at each station, each one serving guests coming from one direction. (One thing I noticed: this was the first party of the year, and at the beginning of the evening cast members all said "Happy Halloween!" as they gave us our candy - by the end of the evening they were generally silently dropping it in the bag. Can't say I blame them - I think I'd be hoarse if I said "Happy Halloween" to thousands of guests in an evening!)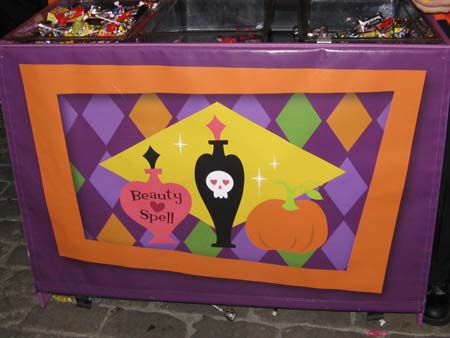 This year's treats were pretty similar to last year (which was quite an improvement over the first few years): LOTS of chocolate candies, including Snickers, Milky Way, Three Musketeers, Reese's, Nestle Crunch Bars, M&Ms, and Tootsie Rolls. Also Skittles (I got a lot of those), Tootsie Pops, and non-chocolate-flavored Tootsie Rolls. For healthier options there were packets of baby carrots, raisins, and apple crisps. As an extra treat there were one or two treat stations (I only found one) that had Ghirardelli Chocolate squares. Yum. (No, I did not get in line over and over again...)
We didn't do a lot of attractions, but did get to the two Halloween-themed ones: Space Mountain Ghost Galaxy (25 minute line at 8:45), and Haunted Mansion Holiday (5-10 minutes at 7:30, though it was longer later in the evening). Ghost Galaxy was unchanged from last year as far as I can tell, but they were still doing the "show" on the outside of it (you can read more about that and see some video in this blog entry from last year. Lots of smiles and happy people coming off the ride. One of the other attractions we did was the Jungle Cruise, hoping that it would have some party-themed jokes, but we were disappointed.
Haunted Mansion Holiday is also basically unchanged, though as usual the gingerbread creation in the ballroom is different - this year it's a "Haunted Tombstone". There's an interesting piece on how it was created on the DisneyParks Blog.
There's a new Mickey's Costume Party character cavalcade this year. Not quite enough there to classify as a "parade" yet, apparently, but it's more than we've had in the past. It features new music this year and three new floats, and several "push-along" themed jack'o'lanterns. Along with lots of dancers and costumed characters. It was short, but I thought it was a lot of fun. The parade leads off with the Vampire Mickey float - he opens and closes his cape.
Then there's the Costume Shop float: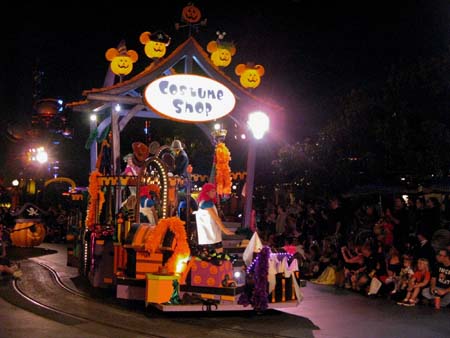 And the final float is the Haunted Castle: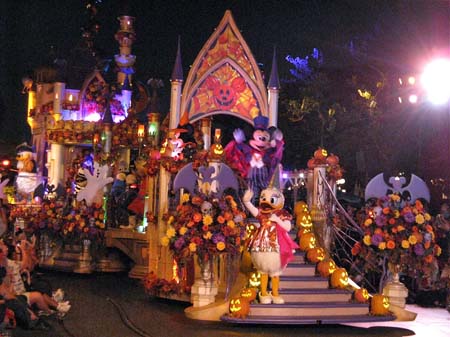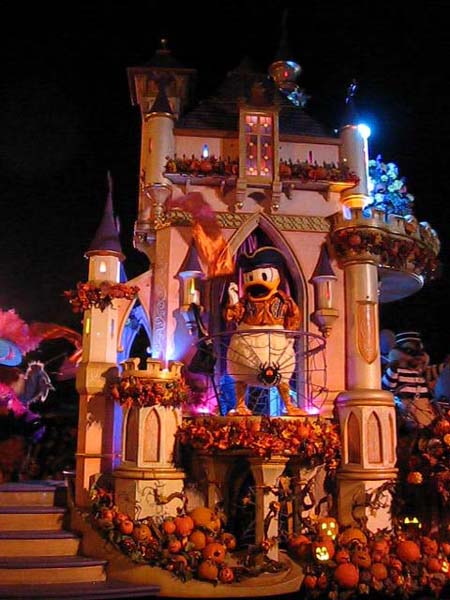 In between are the pumpkins - I thought these were really cute - my favorite was the Monster pumpkin!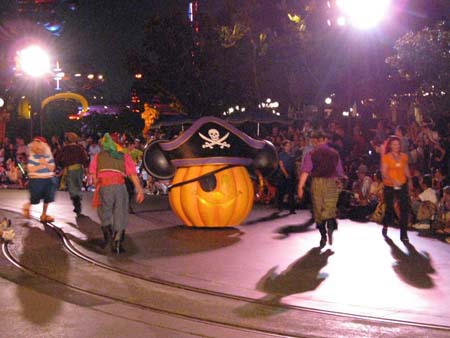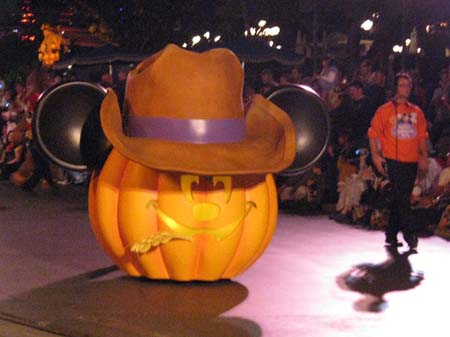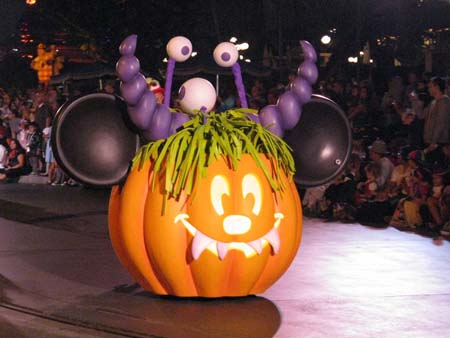 The cavalcade runs twice a night.
The decorations were about what we've seen in the past - lots of the pumpkin and ghost Mickey lights (though they had done away with the blowy air-filled thingies - that's a good thing):
There's of course a fair bit of decorating that's there in the park anyways because it's Halloween Time, like the jack'o'lanterns on Main Street and the carved pumpkins in Big Thunder Ranch.
Most of the party decorations are done with light projectors. They really need to get their pest control people working, though - there were giant spider webs all over the buildings, including the castle, which also had giant spiders crawling on it! :-)
The party logo was on the Matterhorn:
And on the "small world" facade:

And a variety of projections were on the walkways and on buildings on Main Street.
The Rivers of America was filled with mist, with eerie lighting:
There were two dance parties - Buzz Lightyear's Integalactic Space Jam at Tomorrowland Terrace, and Club Skellington at the French Market. both parties had DJs playing various dance music. Buzz and some of the Green Army men were dancing with guests at that area - I didn't see any characters at Club Skellington, but it had quite an interesting entrance!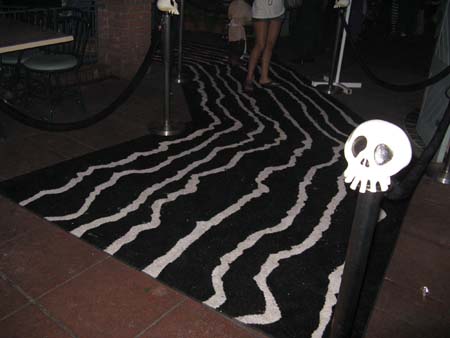 There were a lot of character greeting areas, but most of them had very long lines - especially the Princesses back at Princess Fantasy Faire and Mickey and Minnie at Big Thunder Ranch. There were short lines for Pirate's Wharf and the Pooh characters in Critter Country, though. I really liked what they did with Pirate's Wharf - it was at the Frontierland dock, and they pulled in the Columbia behind it. It would have been really cool if they'd done the greeting area on board the ship itself, but I suppose the logistics of that are too difficult.
Halloween Screams is still one of my favorite fireworks shows ever, and I like it more every time I see it. The fireworks, the music, the effects, are all just terrific. (How can you not like a fireworks show that includes a scream-a-long?) Disney blocked off the area between the hub and the castle until after the first parade (about 8:30), and at that point there were people who started staking out spots for the 9:30 fireworks show. There really was no need to do that to have a decent viewing spot, though - we went off to ride Ghost Galaxy, and didn't get back until about 9:20, but were still able to get a really good spot at the entrance to Tomorrowland, and we weren't packed in like sardines. So that's definitely a benefit to showing the fireworks only on party nights.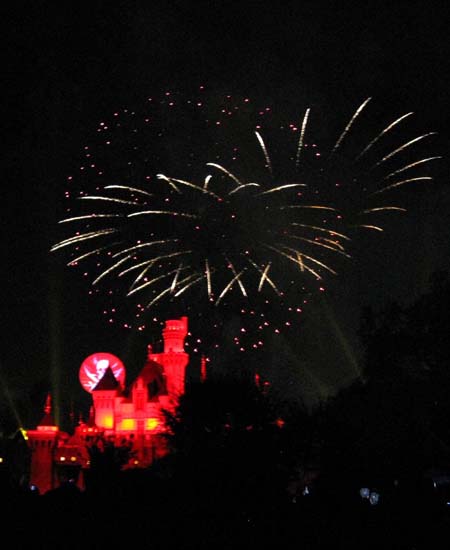 Have I mentioned how much I love this show? :-)
There was some exclusive party merchandise, like t-shirts, Mickey Mouse ears and so on, but I didn't photograph any of it. It was available in multiple locations so it didn't seem too hard to find.
This is the first year that the party has been held at Disneyland and Lee and I both thought that it actually fit a little better at Disneyland than at DCA. For one thing, there are several attractions there that go with the Halloween/villain/ghost theme, like Pirates of the Caribbean, Snow White's Scary Adventures, Big Thunder Mountain Railroad, and of course Haunted Mansion Holiday and Space Mountain Ghost Galaxy. And since so much of the "decorating" is done with lighting, Disneyland actually already has the existing infrastructure to do something more interesting than simple projections, such as the colorful lighting on the castle and "it's a small world". And of course the Halloween-themed fireworks show is a HUGE point in Disneyland's favor...though I think we all hope that in the coming years there will be a Halloween-themed version of World of Color (please????).
We really had a good time - and it was very nice to have the extra time in the park before the party - gave us a chance to have dinner and not waste valuable "party time" to do it. I think the extra hours and the fireworks and expanded parade make up for the hefty price increase (about $18 more than last year, but still cheaper than the party at the Magic Kingdom).
We saw a fair number of adults in costume this year - Jack and Sally were very popular, and pirate costumes are a perennial favorite. Lots of kids dressed as the Mario brothers this year. And of course lots of little girls dressed as princesses.
The party lasted for five hours, but we didn't actually stay all the way to the end since we'd done what we wanted to do by 11:30 and we still had to drive home that night. We really didn't make an effort to get a lot of treats, but my haul was still pretty good anyway!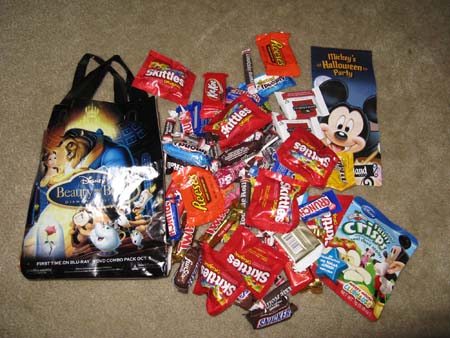 Additional photos of the event are available in our photo galleries: