Dining Review: Cafe Orleans
I mentioned in a previous blog that my favorite Disneyland table service restaurant is Cafe Orleans in New Orleans Square. I hadn't actually eaten there in several years, though, so I wanted to try it again to see if it was as good as I remembered.
I made a reservation just a few days in advance, and was able to get the time I wanted. As it turned out the restaurant wasn't that busy, and walk-ups were being told it was only about a 15 minute wait.
We waited 5-10 minutes after I checked in. While I was waiting I looked around the nearby Mlle. Antoinette's Parfumerie shop. I'd read a little bit on-line about this shop recently. Supposedly Lillian Disney chose the name and the crystal chandelier inside was a gift to her from Walt. The mirrors were painted with a technique called "reverse painting".
The shop carries five perfume brands: Guerlain, Givenchy, Christian Dior, Acqua di Parma and Fendi. There are selections for men and woman, and exclusive fragrances that can only be found at Disneyland.
It's really quite a lovely space.
Cafe Orleans has seating both inside and outside. I said we'd take first available, but I was really hoping for outside, and that's what we got. It was a very nice evening, and the dining area was mostly shaded. Though as the sun went down it descended below the level of the awning and both Lee and I had sun in our eyes for a while at the end of the meal.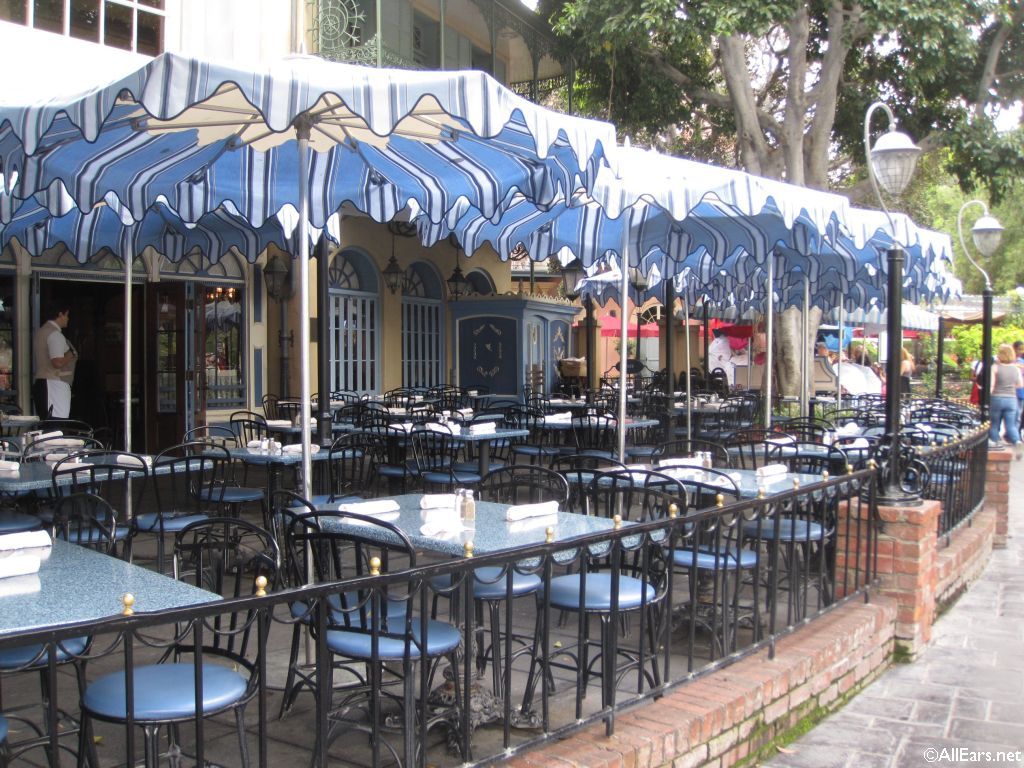 The menu is the same for lunch and dinner, and offers New Orleans-inspired dishes such as gumbo, a muffuletta sandwich, and savory crepes. The famous Monte Cristo Sandwich is also available. There are two versions: the classic with ham and cheese, and a vegetarian three-cheese sandwich. I personally find these to be belly bombs, and haven't had one for years.
Cafe Orleans Lunch/Dinner Menu
Our server was on a break, and it took a few extra minutes before the server filling in for her arrived to take care of us. In addition to soft drinks we wanted to start off by sharing an order of Pomme Frites. These are garlic French fries with Parmesan cheese, served with a Cajun-spiced remoulade. I'd forgotten how large the serving was - it was plenty for four of us to share. They were just as good as I remembered, and were a big hit.
Instead of ordering an entree here, I usually order the French Onion soup and the La Salade de Maison. And that's what I did. The soup is up to $10 now, but it's still very good, and pretty filling.
The salad is always nice and fresh, with goat cheese, cherry tomatoes, and candied pecans, and a raspberry vinaigrette. I find it to be a good-sized serving for $6.
Lee ordered a cup of the Chicken Gumbo. He said it was very good. $7 for a cup or $10 for a bowl.
For an entree, both Lee and Kristin ordered the Braised Beef Crepe - braised beef in a Bordelaise sauce with Cremini mushrooms and pearl onions. In the past the crepes were flat, but this time they were rolled. It was a very attractive presentation. They were served over a pea puree. I was surprised that the pea puree didn't have any additional flavors or spices - it really was just pureed peas. It needed something else. Lee was disappointed in the beef - it wasn't bad, but the flavor was different than what he expected - he thought there would be more spice.
Matt ordered the Chicken Gumbo Crepe - chicken, Andouille sausage, tasso ham, and Creole gumbo sauce with sauteed Cremini mushrooms, cherry tomatoes and asparagus. It was also served with pea puree. He said it was good, and I think he enjoyed it more than the others did the beef crepes. Both crepes were $20, and we all agreed that for that price the portion size was a little small.
For dessert we shared an order of Mickey Beignets ($9). There were five of them, and we all enjoyed them. They were warm and slightly crisp on the outside with plenty of powdered sugar and fried dough goodness! Matt and I both liked them with the raspberry sauce that came with them - Lee and Kristin tried the vanilla anglaise, also.
I think I was the one most pleased with my meal - but I stuck to the menu items that I knew I liked. Still, I think everyone had a good experience. It's always very nice to be able to sit down for a meal after a busy day in the parks. We all especially liked the pommes frites and the beignets.
After this most recent dining experience Cafe Orleans still holds its position as my favorite table service restaurant in Disneyland. It's especially nice to be able to sit outside on a pleasant afternoon or evening and enjoy NOT being out in the crowds.