Hunchback of Notre Dame Musical

Those of you who have been Disney fans for a few years probably remember the Hunchback of Notre Dame show at the Backlot Theater at the (then) Disney-MGM Studios park. The show was popular, and many of us were disappointed when it closed in September, 2002. Disneyland also had a live show based on the movie, The Festival of Fools, though it ran for less than two years.
The show and the movie featured some wonderful music by Stephen Schwartz and Alan Menken, and considering the success of other Disney musicals on Broadway, Hunchback seemed to me like a good candidate for a full-length musical. There was a version in Germany, Der Glöckner von Notre Dame, which ran from 1999 to 2002, but nothing in the United States. Until now.
The Hunchback of Notre Dame opens at the La Jolla Playhouse on November 9, though it is currently in preview. It features music by Alan Menken and Stephen Schwartz, book by Peter Parnell, and is directed by Scott Schwartz (son of Stephen Schwartz). Lee and I saw the fourth preview performance on October 30.
It's very much like the Disney movie, though it is much darker, as it pulls in a few more elements from the original novel by Victor Hugo. More adult themes, and not recommended for children under the age of 12.
Schwartz and Menken wrote some new music for it, though all of the best music from the movie is still there, like "Out There", "God Help the Outcasts", "Hellfire" and "Heaven's Light". There are new lyrics for several songs, such as "The Bells of Notre Dame". The most notable song that is missing is "A Guy Like You" which was performed by the gargoyles, but I'll have more on that later.
The cast features the five major characters: Quasimodo, Esmeralda, Frollo, Phoebus, and Clopin. The rest of the supporting players form "The Congregation", and they all play multiple roles: gypsies, townspeople, churchgoers, etc. In addition there is a choral ensemble - 32 singers from the local group SACRA/PROFANA who are on-stage the entire time. They help provide the sound of numerous voices needed for songs like "Topsy-Turvy" as well as the church choir background vocals featured in scenes within the cathedral and songs like "Hellfire" and "Bells of Notre Dame". (My friend Nancy is one of the choir members, and it has been fascinating to hear her stories about rehearsals and last-minute changes in music.)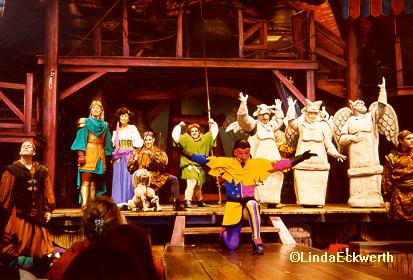 The set reminded me of that used at the Backlot Theater (photo above) representing the bell tower and cathedral of Notre Dame, with multiple levels to add vertical dimension. And there's a huge set of bells that descend from above when the scene is set in the bell tower. Otherwise the scenery is pretty minimal - there are benches and sections of railing that are moved around and used in a variety of ways.
The character of Quasimodo is much less articulate and more mentally impaired than the Quasimodo from the movie. A more child-like character who really does not understand his feelings nor the consequences. We (the audience) actually get to watch the actor's transformation to Quasimodo: a handsome young man (Michael Arden) takes center stage, dons the hump, places a tunic over it, smears some dark makeup lines on his face, changes his stance and expression, and suddenly he's a hunchback.
I found Frollo to be a much more interesting figure than in the movie. As in the book he is the Archdeacon of Notre Dame. We learn a little about his background, which helps explain his affection for Quasimodo. He is quite tortured, but he has his humane moments, and he believes that he is doing the right things, horrible as they seem to us. Obsession is a terrible thing. The actor, Patrick Page, has a tremendous voice.
The characters of Esmeralda and Phoebus were not very different than their movie counterparts. Ciara Renée performed the best rendition of "God Help the Outcasts" that Lee and I have ever heard. Andrew Samonsky portrayed Phoebus with all of the brash and swagger you'd expect. Their duet, "Someday", was especially poignant.
Clopin (Erik Liberman) is a much harder character, with a bit of a cruel streak. Somewhat understandable, as he's trying to protect Esmeralda and the rest of his people from persecution just because they are Gypsies.
The gargoyles are still an element of the show. Played by The Congregation, the gargoyles and the bells talk to and whisper to Quasimodo, and serve largely as the way to communicate Quasimodo's inner thoughts to the audience.
Though overall it's much more somber, the show has its light-hearted moments: "Topsy-Turvy" and the new "Tavern Song", as well as "Rest and Recreation", where we first meet Phoebus. But my favorite is the new "Flight into Egypt", featuring the beheaded St. Aphrodisius. There are some very funny visuals in this one.
Unlike the movie, there's no "they all lived happily ever after" at the end of this one. I won't spoil it by saying more than that.
Lee and I saw a preview, so there's still some fine-tuning going on. Still, we really enjoyed it, and if you were a fan of either of the theme park shows I'd recommend that you see it if you have the opportunity. It will be running at the La Jolla Playhouse through December 14 (though there are rumors that it will be extended another week). It moves to the east coast for a run at Paper Mill Playhouse in Millburn, NJ from March 4-29, 2015.
After that? Who knows? Though La Jolla Playhouse has a pretty good track record of introducing new musicals that make their way to Broadway...