Tuesday, February 8, 2011 is Disney California Adventure's 10th birthday.
You know, I've had a really hard time writing this blog entry - I can't seem to figure out what I really want to say about the park. I think it's pretty obvious that DCA started off as a big disappointment, but I think that exciting things have been happening in the last few years, and more are coming in the very near future.
It certainly started off in a promising way: then-Disney CEO Michael Eisner opened the park on February 8, 2001 with this dedication:
"To all who believe in the power of dreams, welcome. Disney's California Adventure opens its golden gates to you. Here we pay tribute to the dreamers of the past: the native people, explorers, immigrants, aviators, entrepreneurs and entertainers who built the Golden State. And we salute a new generation of dreamers who are creating the wonders of tomorrow, from the silver screen to the computer screen, from the fertile farmlands to the far reaches of space. Disney's California Adventure celebrates the richness and the diversity of California... its land, its people, its spirit and, above all, the dreams that it continues to inspire."
That describes DCA the way it was, but not so much the way it is now - tributes to the aviators are still there (Soarin' Over California), but many of the other "tribute" attractions are gone, like Bountiful Valley Farm and Golden Dreams. I think the park needs a re-dedication. A "do-over." :-)
My first trips to the park then known as Disney's California Adventure were on a special "Sneak Preview Night" and on an annual passholder preview day in January 2001. Lee and I were excited to finally have a second theme park at the Disneyland Resort, and we were looking forward to trying out some of the rides and attractions that we'd been seeing in the Preview Center for months - especially Soarin' Over California. And Soarin' was awesome. I still think it's one of the best rides Disney has ever created. Amazing what an Imagineer can create with an Erector set! :-)

As for the rest of the park...we enjoyed it, but even then recognized it had its shortcomings. Here's an excerpt from the trip report I wrote after our previews:
California Adventure definitely gets two thumbs up overall, but there is certainly room for improvement in some areas.

I don't think the park is very balanced - most of the ride attractions are over in the Paradise Pier area, and I think that people are going to be spending a lot of time there (including us). I expect it to be extremely congested. Probably Paradise Pier will be DCA's version of Fantasyland.

This park is designed for an older crowd, and I think the small fry will not find it very appealing. There are several play areas (including a couple where they can get very wet), but with the exception of Tough to Be a Bug and Muppet Vision, there isn't much of a Disney presence that small children will find familiar, and all of the best attractions have height requirements.
Still, we have still always enjoyed DCA, and have especially enjoyed some of the new things that have come along over the last 10 years. I think I'd have to rank the Disney's California Food and Wine Festival as my favorite. I can't tell you how disappointed I am that there's no Festival for at least the next two years - I am really, really hoping that Disney will bring it back in 2013.
Flik's Fun Fair was also another fun addition - we don't have kids, so don't spend much time there, but when I walk through it I always appreciate all of the wonderful details and the sense of whimsy. Like the entrance, where you walk through the inside of a Cowboy Crunchies box, and Flik's Flyers, with ride vehicles made up of discarded containers like animal cookie boxes and Chinese food take-out containers.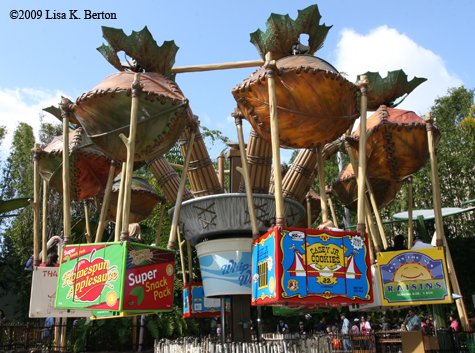 I suppose the Hyperion Theater doesn't count as "new", since it has always been there, but it has hosted several different Broadway-quality shows. While I didn't care for the original show, Disney's Steps in Time, I loved The Power of Blast, and the show that replaced it, Disney's Aladdin, more than lives up to its subtitle: A Musical Spectacular. Aladdin opened in January 2003, and it's still playing to packed houses, including many guests who have seen it over and over again.
And of course there's World of Color. Wow. I think I enjoy it more each time I see it - and I know I see details that I've missed before. The show is so huge that you really do need to see it from a lot of different angles.
I mentioned at the beginning of this blog that DCA needed a "do-over". And you know, maybe that's what it's finally getting, with the multi-year expansion that is still on-going. I love that it's been a phased expansion, where we are getting new things each year, rather than having to wait for all of it at once. It's been really good so far: 2008 brought us Toy Story Midway Mania, in 2009 there was Mickey's Fun Wheel, 2010 brought us World of Color and Silly Symphony Swings. In 2011 we're looking forward to The Little Mermaid: Ariel's Undersea Adventure, and Goofy's Sky School. And in the final phase in 2012 there's the new park entrance, Buena Vista Street, and the all-new Cars Land.
So Happy Tenth Birthday, Disney California Adventure - I'm glad to see you're growing up and getting better each year.


The previous post in this blog was Disneyland - Disney California Adventure - Land of Construction Walls.
The next post in this blog is Wild Africa Trek - Animal Kingdom.