by Guest Blogger Gary K.
If you grow up in Indiana as I did, you always wonder what it would be like to drive in the Indianapolis 500. I recently had the opportunity to find out. You can now drive an actual Indy car as fast as you dare on a real, full-size race track at Disney World. Indy Racing Experience has been offering this breathtaking experience at The Indianapolis Motor Speedway since 2001. In November, 2008 they opened a sister operation at the Walt Disney World Speedway, right next to the Magic Kingdom.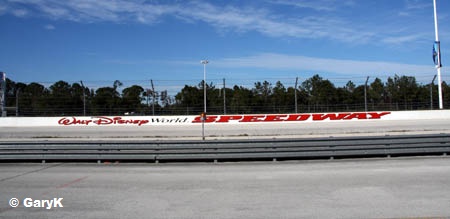 This is the real thing. I got to drive Juan Montoya's (Indy car champ and winner of The Indianapolis 500 in 2000) back up car. It is the same car -- no changes except the engine is a little (and I emphasize a little) smaller. Mike Horvath, Marco Andretti's chief mechanic at Andretti Green Racing and winner of the 2005 Mechanic of the Year Award, helped me get into and get comfortable in the car. And Davy Hamilton, current Indy car driver and veteran of 50 Indy car races, put me through my paces on the track.
I arrived at the track approximately an hour before my schedule track time. It was quite exciting from the very beginning. I had the first Indy ride time of the day. As I walked out next to the track pit wall, I heard a roar and three Indy cars pulled up next to me - ready to go.
The track is really awesome. It was built in 1995 and hosted five Indy car races from 1996 to 2000. (I was lucky enough to attend all five.) It is a banked one mile tri-oval, with each of the three turns having a different radius and a different banking angle. Hamilton told me the track is very, very challenging to drive.
The process of going from track side to on track is fairly simple and quick. The first step is the obligatory paperwork. Bottom line, you have to sign forms that say you understand driving a race car is dangerous and if you hurt yourself you are responsible.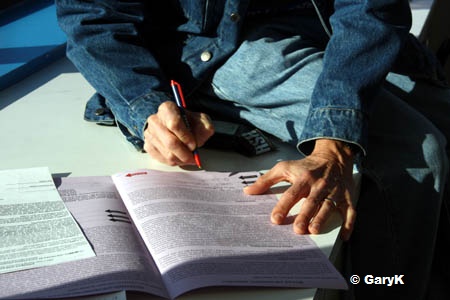 Second, they help you find the right size driving suit and boots and you're off to the pit side "air conditioned" changing rooms. (See the blue curtains to the right of the picture? Those are the dressing rooms.)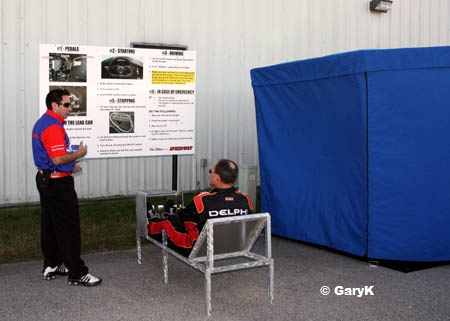 Next, you sit down in a mock up of the driving seat and pedal lay out. (The cockpit is small and you drive in a reclining position. Thus, you cannot see the pedals in the car once you are actually seated in the car. Therefore, you need to get a "feel" for them.) While you are in the mock-up, you receive your instructions. The instructor covers safety and car problems, of course. But, bottom line, you are instructed to simply stay about five car lengths behind Davy in the lead car and he would lead you around the track as fast as you feel comfortable going.
Then you put on racing gloves, a balaclava and a racing helmet and it's over the pit wall and into the car.
You have to stand up in the cockpit and gradually lower yourself vertically, disappearing into the race car, with only the top three-quarters of you head above the cockpit. The mechanics get you comfortable in the seat, tighten all the seat belts, fit the rear neck surround to the car and install the steering wheel. Initially, the feeling is a bit claustrophobic but that disappeared instantly when I heard Hamilton's car start.
The mechanical procedures are incredibly simple. (The car has a five speed transmission but the first four gears are only used to get you up to top speed quickly. Since this is not a race you just keep the car in fifth.) You depress the clutch, push the start button and the engine comes to life. (The engine has already been warmed up so there is no delay. But revving the engine a few times seemed appropriate to me.) Hamilton took off. I gave it some gas, let out the clutch and away we went for eight thrilling laps.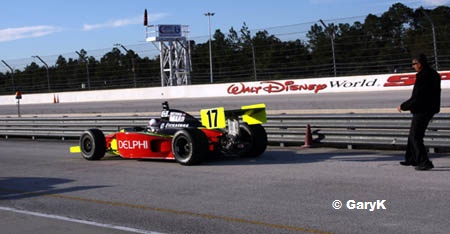 The actual driving experience was easier than I imagined. With Hamilton showing you the racing line, the car seems like it is glued to the track. Your comfort level grows and so does your speed. You start to get a real feel for the g-forces in the corners and how each corner feels different. How the different banking angles and corner radiuses all impact the car. Hamilton lead me down to the apex of each corner and then up right next to the wall. Hamilton's car kicked-up all kinds of dirt as I followed him next to those walls. (The Richard Petty Driving Experience stock cars, that share the same track earlier each day, must not use all the track the way and Indy car does. We were exploring some new terrain.) The eight laps go quickly but you get a real feel of what driving one of these cars is like. You also get an appreciation that Indy car drivers are athletes in the true sense of the word. In addition, you begin to realize you are simply following a car on the racing line. What must it be like to be surrounded by 20 cars - passing and being passed at racing speed for a couple of hundred miles?
After the final lap, I followed Hamilton into the pits, depressed the clutch, stopped the car, killing the engine and grinned.
It was very cool day in Florida the day of my drive and it was on a weekday. So, there was no one waiting to take my place. Hamilton was very willing to talk to me about driving these cars on this track and about Indy car racing in general. It was fun and enlightening. I ask him how fast we were going. He said we got up to about 100 mph average on our fastest lap. He told me that most people don't go much faster unless they have had some prior experience. (I am sure he was being simply gracious.)
My wife decided she wanted to see what the experience was like but did not want to actually drive a car. Fortunately, they have lengthened an Indy car chassis and created a two-seater. So, Hamilton took her for a ride. (Everything is exactly the same, except you ride along instead of drive. See below.)
Because in was near dusk on a cool day, Hamilton was "only" able to get up to about 120 mph average on his fastest lap with her. So, I went home feeling pretty good about my speed. Unfortunately, I then got on the web to see what the Indy car lap recorded is for the Disney Speedway. The fastest lap was set by Buddy Lazier at over 180 mph. I have a hard time imaging what that must have been like, but now I have a much better idea than I did before. If you are interested in Indy car racing, you have to give this a try. It is well worth the money.
As I got ready to go over the pit wall and rejoin the regular world, Hamilton told me about a young man who had such a great experience driving the prior week that he bought three back-to-back eight lap runs. He was able to get up to a 120 mph lap. As I left the track, I was reminded of that old racing adage "Speed costs money. How fast do you want to go?"
====================
Gloria chimes in (Doesn't she always!)
As Gary told you, once he was finished, they asked me if I wanted to drive. Nope, no way! I'd be a menace to both myself, the car and everyone else ...but I could go for a ride! Why not? So, I went inside to sign the release forms and then outside to the changing room to get suited up. Now for those of you who know me personally, I barely reach five feet tall. Well, fire suits come in various widths, but only one length *-- l-o-n-g! I managed to get everything zipped, Velcroed and closed, but it was an interesting endeavor to say the least.
Once suited up, it was time for the balaclava (head sock), the helmet and the gloves. The balaclava was the worst! I have the kind of hair that does not take well to being disturbed once it has been tamed into place in the morning. Head socks and helmets really do a number on hairdos! Trust me on this one. Even Gary said, "She must really want to ride if she's willing to risk getting her hair messed up!"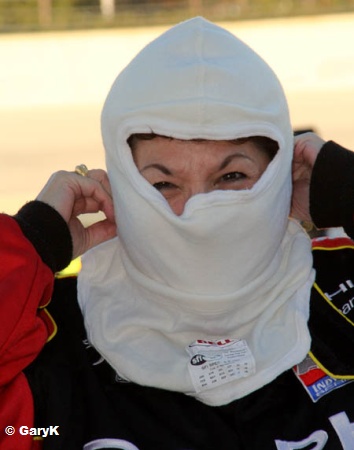 Helmet on! Gloves on! Now I must get down into the car which sits about 4 inches off the ground. This alone is a challenge, but I managed, only to find out that I was sitting so low in the car that I couldn't see out of the cockpit. This is not good, so they tell me to get out and they'll put a cushion in to raise me up a bit.
That's when I learned that getting out of the car is even more difficult than getting in. For a minute I thought maybe they'd need a crane, but it wasn't necessary. I was able to pull myself up and out more easily than I thought. I think the adrenalin must have kicked in, giving me superhuman strength.
They put in the cushion and I again lowered myself down into the car. Much better! I could see! The guys snapped all the restrains in place, locked in the neck support and in just a few seconds we were off.
For those of you who have never heard the roar of an Indy car engine, it is spectacularly loud! There is also a rumble that goes with it and when you're in the car, that rumble travels right up through your body - an awesomely powerful feeling.
According to Gary who was chatting with the "pit crew" while I was riding, the car was "pushing" (Whatever that means.) and wasn't handling as well as the driver wanted. Consequently we never got up to the 180 mph the car might reach if all was working perfectly. Consequently, they threw in an extra lap or two to try to get the tires warmed up before trying to attain top speed down the straightaway. We probably reached 150 to 160 top speed for a few seconds. That was plenty fast for me!
But all too soon the ride was over and it was back to our Toyota van for an exciting (not!) ride over to the MK where we spent the rest of the day.
Indy Racing Experience is priced competitively with the Richard Petty (stock car) Racing Experience. They are certainly worth the money for anyone who is a fan of open-wheel racing. Gary is the racing fan in our family; I have little interest and had no intention of even taking a "ride" when we got there. But there's something about the roar of those engines that just draws you in. It's probably not something I'd want to do again, but it was definitely great fun and a terrific experience.
RELATED INFO:
Walt Disney World Racing Experiences can be booked by calling 1-888-357.5002. Ask to speak with Shonda Kennedy at extension 106 or e-mail her at skennedy@indyracingexperience.com. You can read more on their official website at http://www.indyracingexperience.com. Prices as of January 2009 are $399 for 8 driving laps and $109 for the 3-lap ride-along experience.
The previous post in this blog was Kim Possible World Showcase Adventure.
The next post in this blog is DizneyMike's World: Innoventions .