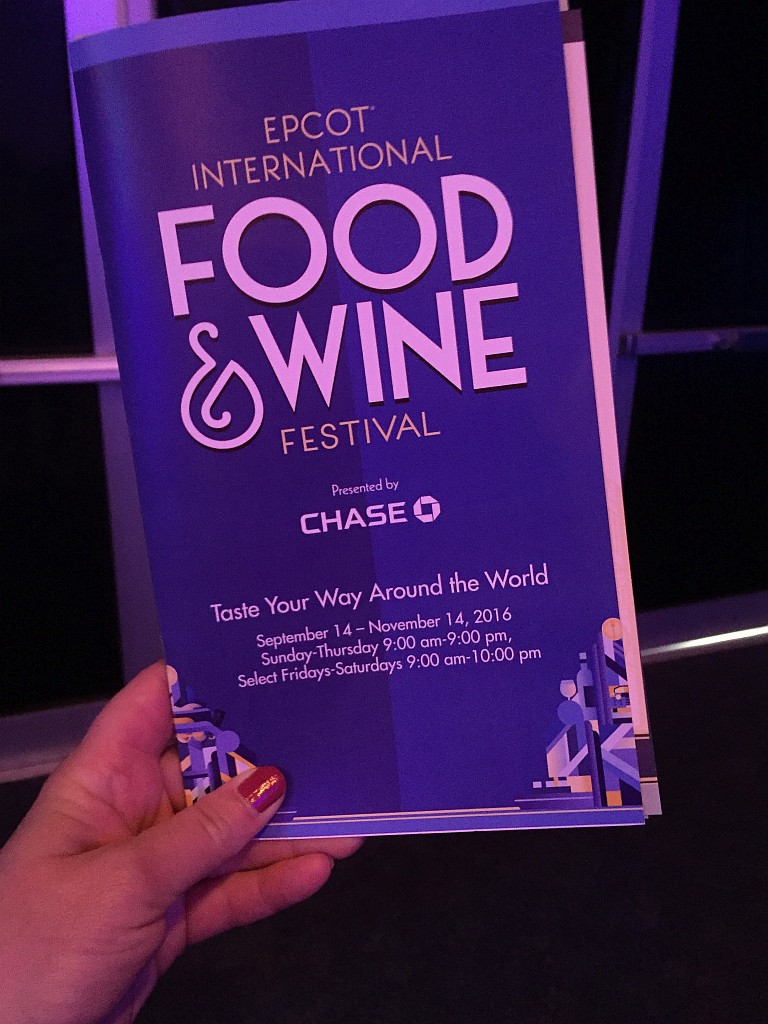 Tables in Wonderland held its annual "sneak preview" of the Epcot International Food and Wine Festival for its members this past Sunday, June 26, at World Showplace in Epcot. The festival, which will run an extra-long 62 days in this, its 21st year, begins September 14.
"Yes, we're going to need lots of stamina this year," said Michael Deardorff, Epcot Executive Chef. "This will be a 62-day sprint. We'll have to hit the ground running, but we'll be ready."
Deardorff noted that as the festival has grown "exponentially bigger and bigger" each year, the festival team has become like a machine, with all its parts in sync.
That synchronicity was apparent during the preview, as the various components came together to present a wonderful representative sampling of the new or reimagined food and beverage items that will be featured in the marketplaces (aka food booths) scattered around World Showcase and even into Future World.
Let's start with the food and beverage offerings, which obviously were the stars of the afternoon.
We were greeted at the door with a refreshing cocktail -- Spiked (with vodka!) Orange Iced Tea, which will be introduced at the Hops & Barley marketplace.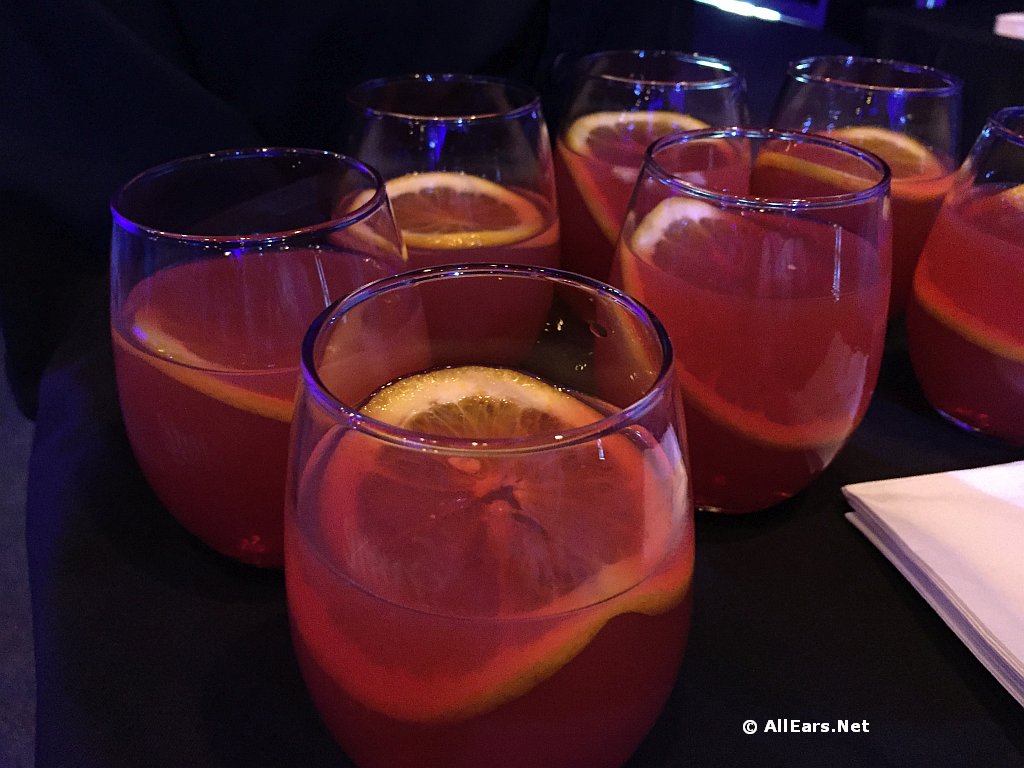 I was eager to try as many of the new food items as I could, and I managed to hit nearly all of them. Here were the stand-outs, at least as far as my tastebuds and me were concerned:
Pork Tenderloin with Cannellini Bean Ragout and a Zinfandel Reduction, which will be found in the Wine and Dine Studio
This was my overall favorite of the afternoon -- a tender chunk of lean pork atop the flavorful beans, with a hint of the red wine adding a little zing. There's not much else to say about this dish except Yum.
Chicken and Dumplings with mushrooms and spinach, which will be found in the returning Farm Fresh marketplace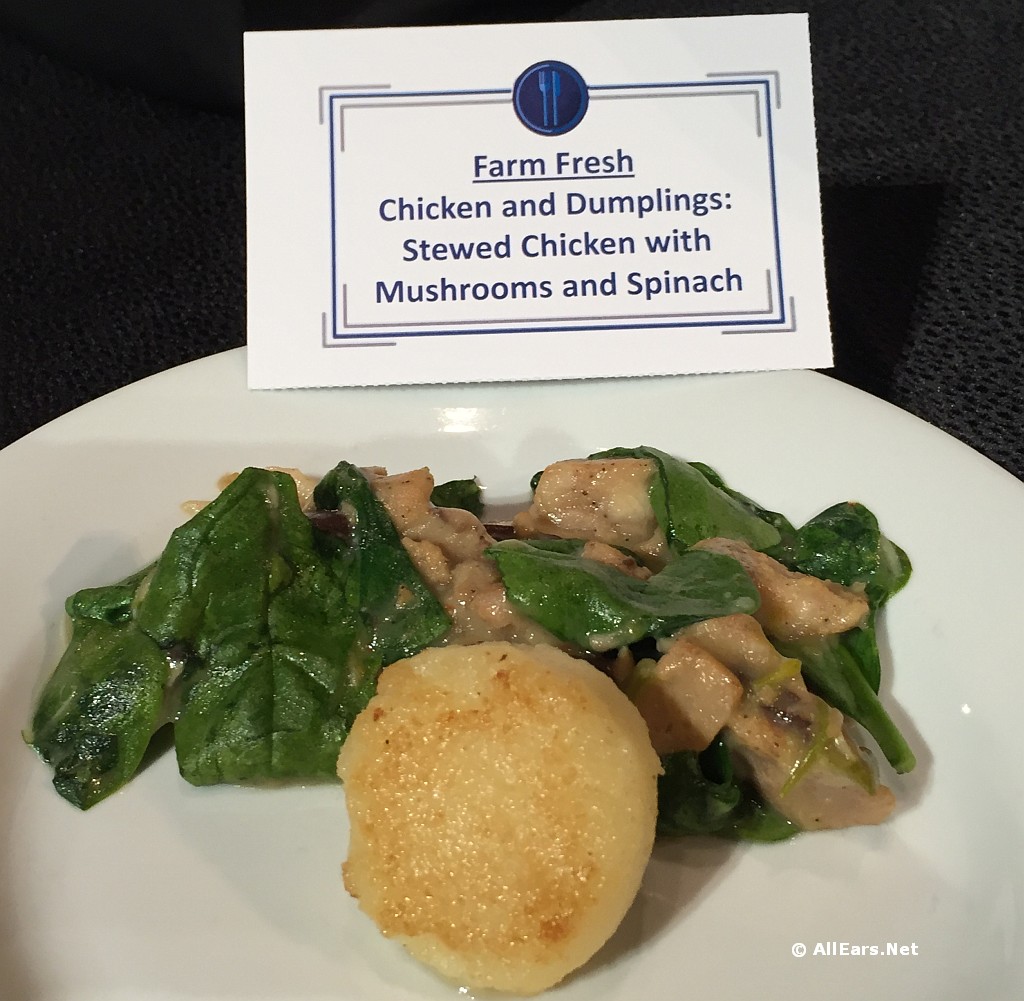 This was a real palate-pleaser for me, even though it's not that photogenic -- nothing really fancy, just juicy white meat with a fluffy light dumpling accompanied by sauteed mushrooms and spinach in a savory sauce.
Grilled Beef Skewer with apricots, romaine and feta cheese, from The Chew Collective marketplace: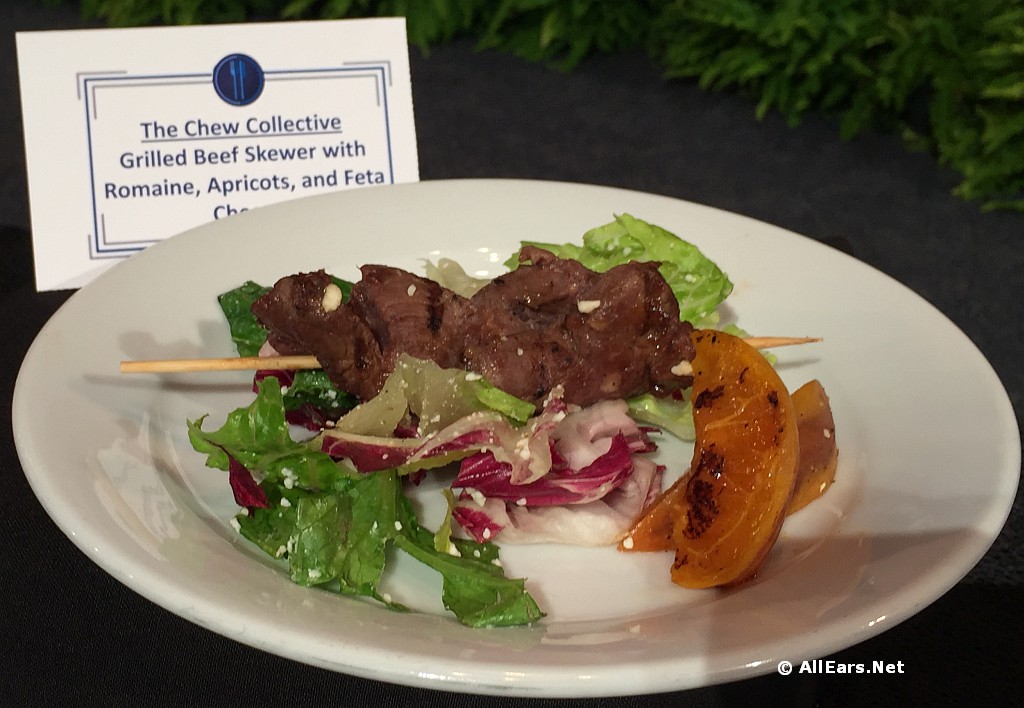 The lightly seasoned meat is accented by the sweetness of the fruit, which in turn contrasts with the sharpness of the feta. I thought it was a nice dish, but my piece of beef was tender. A friend's was gristly and tough, so she didn't rate the plate as highly.
Seared Scallop, Truffled Celery Root Puree, Brussels Sprouts and Wild Mushrooms, also to be featured in the Wine & Dine Studio
My second favorite bite of the day. Who would ever think that a sweet, mild scallop would pair so well with the sharp, slightly bitter sprout? But it's a match made in heaven, so tasty. Chef Mike noted that to create this dish they took the scallop out of the Scotland marketplace where it had been featured for the past few years, and gave it a Napa Valley twist. A smart move, in my opinion.
Duck Confit with Creamy Polenta and Fire-roasted Salsa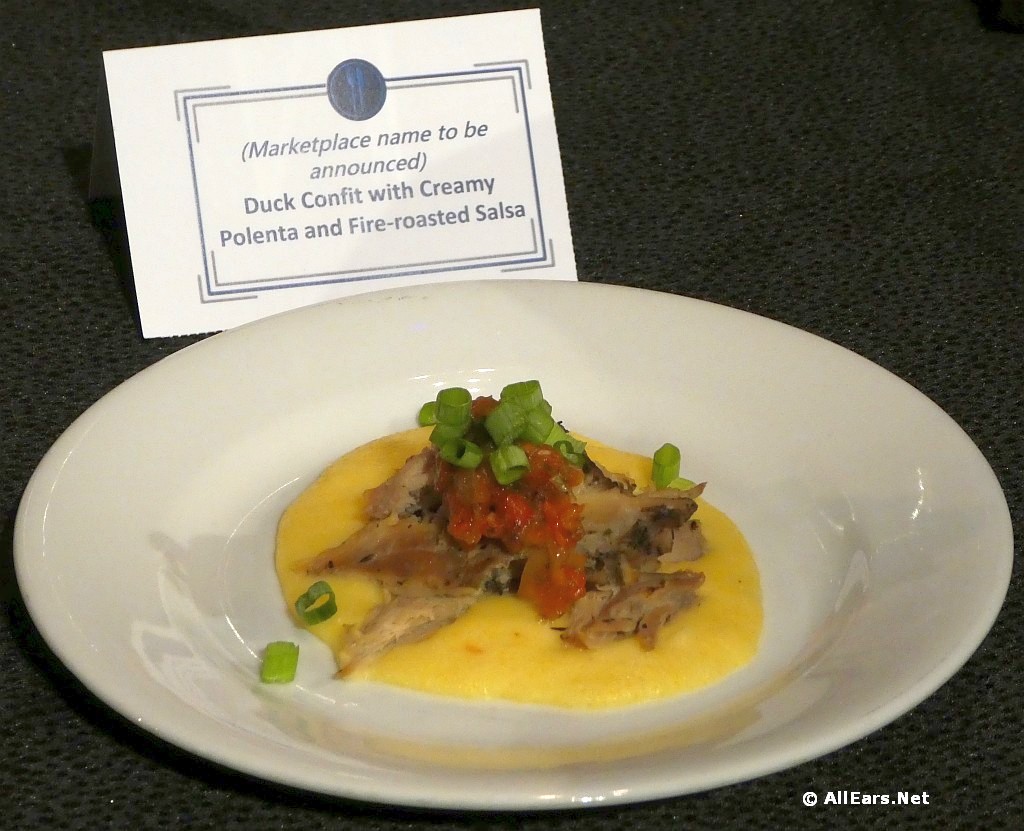 The duck was tender and perfectly pink, and the polenta creamy as promised in the menu. I didn't get much heat from the dash of salsa that topped the plate, but that was OK -- it was still a tasty morsel.
Loaded Greek "Nachos": Pita Chips, Meatless Sausage Crumbles, Vegan Tzatziki, from the Greece marketplace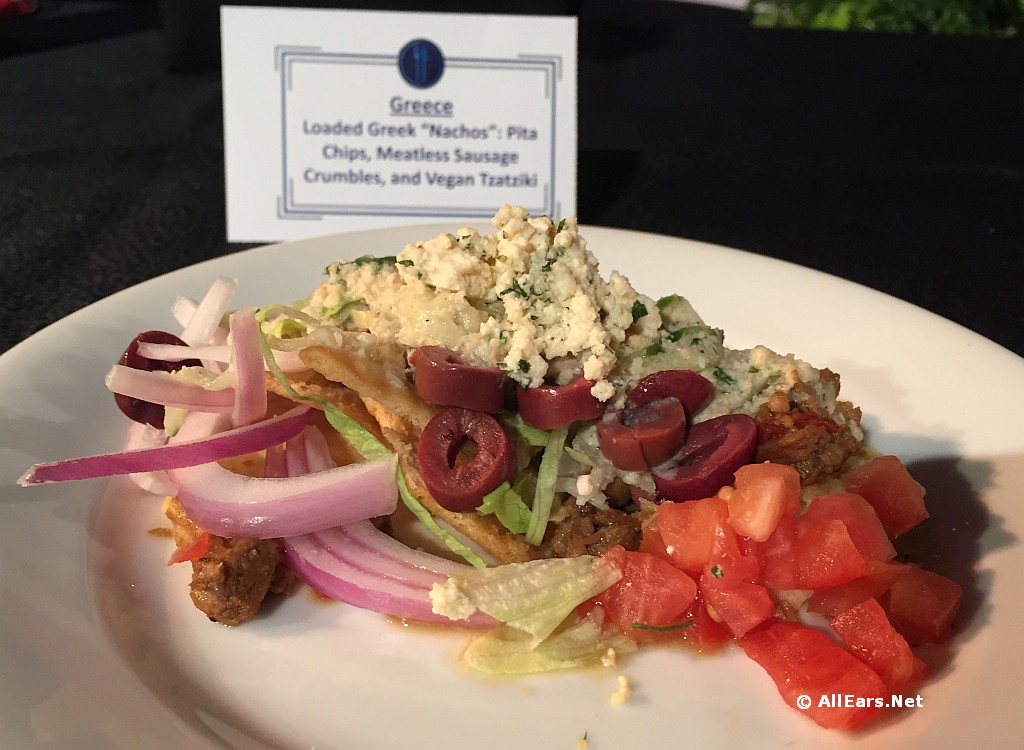 This was the biggest surprise for me -- honestly, I'm not sure I would have known this was a vegan dish if I hadn't been told. I'd just had real nachos the day before (the fantastic loaded nachos at the new place in Disney's Hollywood Studios Echo Lake Eats), so it was interesting to me to compare the two dishes. The pita crisps were a perfect substitute for tortilla chips and the onion, kalamata olives, lettuce, tomato were basically what you'd expect on real nachos. According to Chef Mike, the "sausage" is a Gardein product (Gardein has partnered with the festival for other vegan dishes over the years) and the "feta" is actually specially seasoned tofu. "We think it's an awesome plate. It was fun to do and it turned out great," said Chef Deardorff. I have to agree with him.
Oikos Greek Yogurt Vanilla Cake Soaked in Ouzo with Yogurt Whipped Cream and Pistachios, another item from the Greece marketplace
This is my kind of dessert. Not too sweet, and a perfect complement to a cup of coffee. Come festival time, I can see myself taking a plate of this dense cake to an out-of-the-way spot with an espresso from one of the coffee stands to watch IllumiNations.
Quesito: Puff Pastry with Sweetened Cream Cheese and Guava Sauce, from the new Islands of the Caribbean marketplace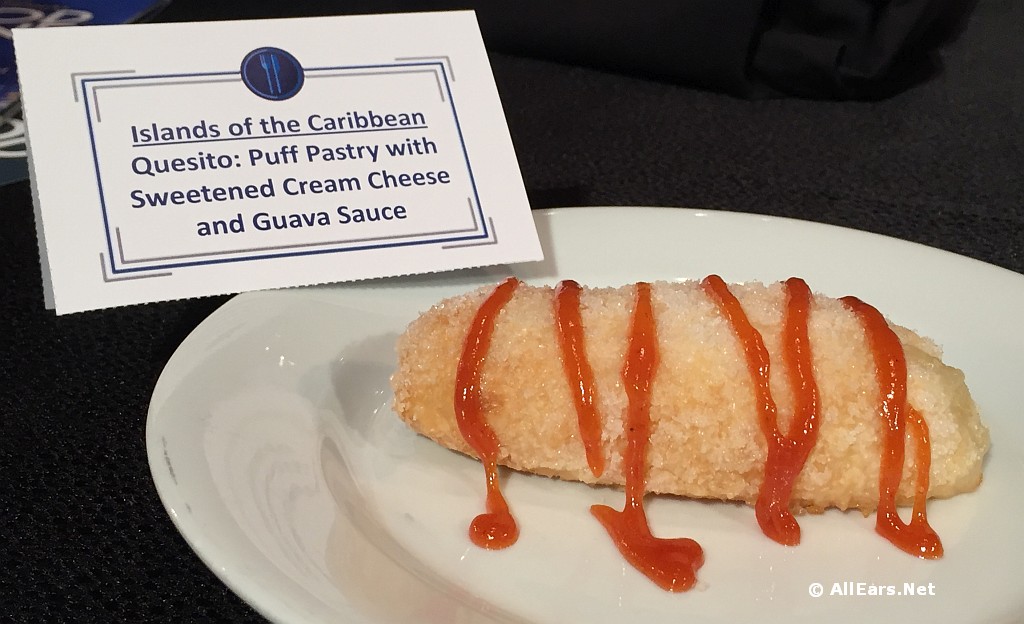 I absolutely loved this dessert, too. Crispy light puff pastry with a not-too-sweet cream cheese filling -- it's like it was made with me in mind. The guava sauce was a little too sweet for me, but overall I thought this was a great new offering.
There were a few new items I didn't get to, most notably the Smoked Brisket & Pimento Cheese on Griddled Garlic Toast, which Chef Mike predicts could be the big favorite this year. Calling it an open-faced version of a grilled cheese sandwich, he admits that they developed this dish based on the popular smoked brisket from the Epcot Flower & Garden Festival. It will be featured at the Hops & Barley marketplace, where I will eventually try it, I'm sure.
So, what was the other big news coming out of the preview?
First, you may have already heard that the cast of ABC-TV's "The Chew" (Chefs Mario Batali, Michael Symon, Carla Hall, and Clinton Kelly and Daphne Oz) will be returning to the festival, taping episodes October 5-7, which will then air the week of October 10-14.
Other interesting news was the announcement of several new programs that take the festival out of Epcot and into some of the resort hotels.
• Brunch with a Twist at Citricos at the Grand Floridian Resort and Spa
• Culinary Adventures with a Master Chef at Contemporary Resort's Convention Center
• Behind the Scenes at Trader Sam's Grog Grotto at the Polynesian Village Resort
• The Secret of Flavor at Yachtsman Steakhouse at the Yacht Club Resort
We have details on these offerings, including dates and pricing, on the Festival Special Ticketed Events page.
Other new aspects to the festival this year:
-- Eight new celebrity chefs will be appearing over the course of the festival: Maneet Chauhan; Elliott Farmer; Fabio Bongianni; Masaharu Morimoto; Duff Goldman; Paul Wahlburg; Graham Elliot; and Geoffrey Zakarian.
-- Making their Epcot debut, Wang Chung will be the musical group kicking off the festival's Eat to the Beat concert series this year. Other new acts confirmed include The BoDeans, Toad the Wet Sprocket, Living Colour and Delta Rae. (The full, official schedule of Eat to the Beat concerts has not yet been announced.)
-- Eat to the Beat Concert Packages, which guarantee reserved seating for the nightly concert along with a table service meal in Epcot, are now available at breakfast (either buffet or family-style) at two locations: Garden Grill and Akershus Royal Banquet Hall.
-- The former mixology seminars that used to take place at 6 p.m. each day in the Festival Center have morphed into a new program called "Mix It, Make It, Celebrate It!" The program will be offered at 4 p.m. daily and will include other hands-on activities besides mixology, such as cake decorating and garnishing. It will also come with a heftier price tag: $49 per person.
-- The "Boot Camp" concept isn't new to the festival, but the two offerings under this umbrella are. The first, hosted by Master Sommelier Andrea Robinson, is called "Exploring Wines the Mondavi Way," and will celebrate the 50th anniversary of this well-known winery. The second, "Demystifying Bourbon the Jim Beam Way," will explore bourbon production through the eyes of a master distiller.
For a more in-depth description of these and all the signature and premium programs that will be available, visit the Festival Special Ticketed Events page.
In fact, be sure to check out all our Food and Wine Festival pages, with photos from the preview and other details HERE.
Because this was a "sneak peek," we were warned that there may be changes or tweaks to some of these programs, so take that under advisement. But you don't have long to wait for the final, full schedule of festival offerings -- it will be online at epcotfoodfestival.com on July 11, with booking for the general public opening at 7 a.m. July 21. (Some events MAY be open for booking a few days in advance for Disney Vacation Club and Tables in Wonderland Members, Golden Oak residents, Disney Visa Cardholders and Annual Passholders. Keep checking back to AllEars.Net for updates!)
The previous post in this blog was Afternoon Tea at Crescent Solarium Disney's Beach Club.
The next post in this blog is First Look: Art Smith's Homecoming: Florida Kitchen and Shine Bar.