Friday, October 1, we held an AllEars® Meet and Greet in Epcot's recently reopened La Cantina. It was an unusual day, in that we had so many members of the AllEars®Team on hand -- some in town for the Wine and Dine Half Marathon, others in for the opening weekend of the Food and Wine Festival, as well as our lucky locals.
We had hoped that La Cantina would be fairly empty by the time of our 2:30 p.m. meeting, but the joint was still jumping, which made for a slightly crowded and chaotic meet-up -- but still, it was so great to meet so many of our readers, and get to spend some time with some old friends, too!
I tried to get photos of everyone, but alas, was not successful -- but I did get to capture a few of your smiling faces. Please let me know if I got your names wrong -- or supply your names if I don't have them. And send in photos of the meet, too, if you'd like me to include them!

Cindy and Tom from Lakeland, FL


Deb Koma and Gail R.


Barbara and Albert from Cape Cod


from left: AllEars® blogger Jeanine Yamanaka, Dave of Running Team AllEars®, Team AllEars® Co-captains Mike Scopa and Michelle Scribner MacLean, blogger Jack Spence, technical guru Jack Marshall, blogger Mike Bachand, and Senior Editor Deb Koma.


Holly Aulen (from Team AllEars®), Michelle Scribner MacLean, and Dave Aulen


Team AllEars® runners Holly Aulen, Stan Harris, MaryJean Kancel, Dave Dankowski, and Evelyn DeLuccia, with Co-captains Mike Scopa and Michelle Scribner MacLean


A sweet girl named Katie made us feel like celebrities, asking for our autographs -- and yet we forgot to get her photo! Sorry Katie!
Deb Koma


Mike Scopa


Jack Spence


Mike Bachand


And here's a look at the brand new, limited edition AllEars® Food and Wine Festival Trading Card that we released that day: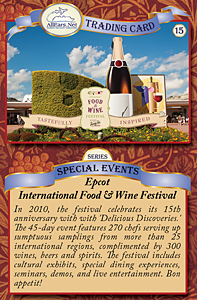 (Read more about our trading cards HERE.)
Thanks to everyone who stopped by to say hello -- please let me know if I've forgotten anyone:
Beci Mahnken of MouseFanTravel
Sue and Mickey from W. Memphis, Arkansas
Cindy and Tom from Lakeland
Floyd and his wife from Winterhaven
Connie and her daughters from PA
Jane from Nebraska
Barbara and Albert from Cape Cod
Sandra Huling
Gail R.
Aaron
Dave and his wife from Team AllEars
and lots of other Team AllEars runners I didn't get to meet!
Amy
Matthew
Laura W.
Jeremy
Julie B.

If you missed us this time, be sure to watch our Team Meets page for upcoming AllEars® Meets, and hopefully we'll see you next time you're in the world!
Thanks so much for your continued support of AllEars®!
The previous post in this blog was New Karamell-Küche in Epcot's Germany Pavilion.
The next post in this blog is Holiday Decorations around Epcot.